Business Phone Features
Freemium features you'll love. Switch to a modern way of making calls with VOIP Phones.
AUTO ATTENDANT
Virtual Receptionist
Putting clients through to the right people.
Example:
Press 1 for boiler installation...
Press 2 for a service...
Press 3 for accounts
Technical team, accounts, marketing, no matter the department, virtual receptionist (auto-attendant) allows callers to speak with the people within your business. With a virtual receptionist you're giving customers a professional experience every time.
Phone calls are often the ultimate sales tool, so missing a call is never good. A virtual receptionist means all calls are answered as well as giving your business a professional presence.
CALL QUEUE
Call Queue
Hold multiple callers on the line.
Call queue allows you to hold multiple callers in a queue giving them the option to remain on the line. They will be greeted by a message and some holding music until you are free to take their call.
Improve your business' productivity by managing high call volumes, you can also promote your business with promotional messages as customers hold the line.
CALL RECORDING
Call Recording
Enable and disable call recording as required.
Enable call VOIP recording and add an extra level of security and protection to your business.
Monitor staff performance and customer call experience with VOIP call recording or use this feature to recall key messages and notes from important calls. This we feel is really useful with engineers where it is not always possible to have a pen to hand, but feel key points need to be noted. The recording allows the call to be played back easily later on.
Enable and disable the VOIP phone call recording feature when and where you need it. Alternatively, have the recording feature continually on. All of your phone recordings are stored in the cloud, meaning you get instant access to them wherever you are from a browser login, from your computer, tablet or phone. Keeping you in touch with your business even when you're not in the office.
Enable VOIP Call Recording
CLOUD CONTACTS
Shared Contacts
Out of the office? No problem. Share your contacts across the whole team.
With our cloud contacts feature you will have access to your phone book wherever you are. Manage your contacts and have them be accessible by the whole team instantly, from one central address book.
With our Chrome extension, quickly find and call your contacts from your browser in just 1 click. Add, edit and delete contacts instantly from your computer or laptop.
CLICK TO CALL
Click to Call
Boost your business' outbound call productivity.
By downloading our Chrome extension you can call customers on the go in just 1 click. Simply click on a phone number on a website to make the call.
For fast and simple calling we are also able to provide CRM integration, click to call can auto-detect numbers within your CRM system, boosting your business' productivity.
ON HOLD MUSIC
On Hold Music
We can set up on hold music and personalised greetings for your business internet phones.
Advertise your services and latest promotions with a personalised phone greeting, recorded by us.
Alternatively, you can upload your own on hold music to our system. Just log in to WigWag and head toward the on hold music upload area.
If you not already a customer visit our Internet Phones Prices to see how you could have a great phone system at a great price.
RING GROUP
Ring Group
Can't answer that important call in time? Improve your call management.
Setting up a ring group allows incoming calls to ring on multiple phones or cascade from one to the next, reducing distraction from all phones ringing at once, great for smaller offices.
Another advantage is that unanswered calls often give the impression that your business is understaffed. A ring group solves this problem - making sure customers get to speak to someone as soon as possible.
VOICEMAIL TO EMAIL
Voicemail to Email
We know your day can get busy so ensure you don't miss a call with an answerphone mailbox.
Our answerphone feature allows callers to leave a message with your voicemails then being straight to your chosen email address so you can deal with them at a more convenient time.
Allowing your voicemails to go direct to your inbox means you or your team can stay on top of your enquiries and manage your customers response time expectations.
SEND SMS
SMS Messaging
Don't have your mobile to hand? Send and receive texts from your Browser.
With our SMS feature you can also view past conversations directly from your browser. The easy to use Chrome extension allows you to send and receive SMS messages straight from your computer.
The SMS feature also means you no longer have to use your personal number to message your customers. You can also manage contacts across devices with our Cloud Contacts feature.
Business Internet Phones
Transfer your existing landline number or instantly select a brand new number with the area code of your choosing.
Our system grows when you do. Whether you're looking for a starter system, with just one phone receiving your office calls or you have a team of 4 out on the road, our system can be tailored to suit your needs. With office handsets for your in-house team and mobile apps for your engineers, never miss a call!
Discuss your


Business Phone Requirements

Talk to the team to find out more

0115 824 5600
Our Branding Services
We can also design and organise printing of...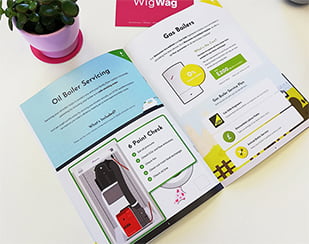 Brochures
Set yourself apart from competitors
Highlight your key services
Design to print from: 3 days
Popular quantities: 500
Presentation Folders
Brighten up boring documents
Custom cut inlays
Design to print from: 7 days
Available sizes: A4 & A5
Business cards
Pocket-sized branding
Bespoke design service
Design to print from: 3 days
Popular quantities: 500
Postcards
Popular with heating engineers
High quality finishes available
Design to print from: 3 days
Popular quantities: 500