Branded Mug Designs
Remind customers whilst they sip on their hot beverage of your business with a branded mug designed by our team in Nottingham!
Branded Mug Design
from £0 (125qty)
...
Looking to gain potential customers? Local advertising is a great way to get your business and services to new customers and a wider audience.
......

......

......
Bespoke Branded Mug Design
Gloss stickers personalised with bespoke illustrations, your logo and company details.
Remind your customers when their next boiler or gas appliance service is due with a bespoke sticker design. Our in-house designers can create bespoke illustrations of your local area or your team. See more boiler stickers
Hard wearing and self adhesive

Delivery from 5 working days

Illustrations bespoke to you
Bespoke Branded Mug Design
Our team can bring your idea to life, from advertising your day to day services to limited special offers.
From illustrative designs to photographic adverts, our team will understand how to get your message across clearly and concisely.
Our designers here at WigWag can work with you to create a design or use artwork that you provide us, all the while being quick and efficient in good communication with you.
As a Worcester Bosch partner, we provide outstanding branding to plumbing and heating engineers across the UK.
Discuss your


Bespoke Branded Mug Design

Talk to the creative team.

0115 824 5600

See what WigWag can create for you - view more of our
Our Branding Services
We can also design and organise printing of...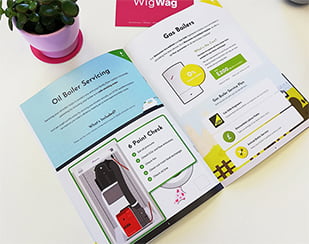 Brochures
Set yourself apart from competitors
Delivery from 5 working days
White or yellow
Bespoke designs available
Presentation Folders
Brighten up boring documents
Delivery from 5 working days
White or yellow
Bespoke designs available
Business cards
Pocket-sized branding
Delivery from 5 working days
White or yellow
Bespoke designs available
Postcards
Popular with heating engineers
Delivery from 5 working days
White or yellow
Bespoke designs available