Boiler Installer
Websites
HEATING ENGINEERS, DROP YOUR TOOLS
Take a look at what WigWag can do for your business...
Proud to be working in partnership with Worcester Bosch
Over the years, we have built many relationships through creating Boiler Installer Websites for clients around the country. WigWag have established a great relationship with the Worcester Bosch community with many of our clients who request boiler installer websites referencing other case studies we have done.
Heating Engineer Success Stories
J&S Plumbing & Heating
J&S Plumbing & Heating | Case Study
We worked with Lincoln based heating engineers J&S Plumbing and Heating to transform their online presence.
Prominent Gas
Prominent Gas | Case Study
Prominent Gas came to WigWag to see how we can rebrand their business through online & physical platforms.
Oxyplumb
We helped Witney heating engineers Oxyplumb rebrand their website as well as produce business cards and adverts!
Tailored Heat
Tailored Heat | Case Study
We worked with Plymouth plumbing and electrical engineers, Tailored Heat with rebranding their website & more.
AB Plumbing & Heating
AB Plumbing & Heating | Case Study
AB Plumbing & Heating came to us to recreate their online and physical branding.
M Gannon
We worked with Miles at M Gannon to transform his website as well as his overall branding across other channels.
UK Gas Washington
UK Gas Washington | Case Study
UK Gas Washington worked with us to rebrand their business through online & physical platforms.
The Gas Man
WigWag worked with The Gas Man to create a brand for them unique to the Manchester area that they operate in.
Warm For Life
Warm For Life | Case Study
We continuously work with our long term clients Warm For Life maintaining their website, brochures and van designs.
N.Leonardi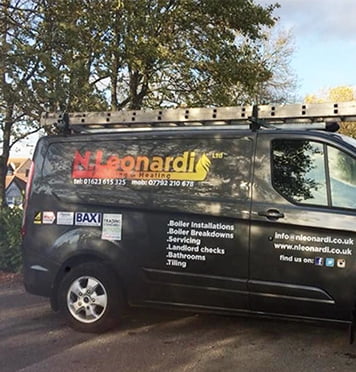 See how our VOIP phone system improved communication for heating engineer N. Leonardi's team.
WORDPRESS WEBSITES
Bespoke Websites
Transform your existing website by developing a positive experience for your customers.
If you're looking for a new WordPress or Shopify website to help promote your business, or whether you'd like us to improve your existing website, we offer various pricing packages to suit your requirements.
Heating Engineer Website Testimonial
I can't praise the team at WigWag enough
Very friendly, approachable, always happy to help with anything, work with you to meet what you require, they have very talented designers who can bring visions to life and always welcome feedback.

Value there professional advice and the quality of work they produce motivates me to achieve my business goals.
Heating Engineer Branding Testimonial
The whole experience has transformed our business
We knew our branding would change, however we were not expecting it to change the company as much as it did.

All of a sudden we were getting recognised within the industry for our new website, by companies such as Worcester Bosch, Sky and also by heating engineers around the country.
Heating Engineer Website Review
Working with WigWag couldn't be easier
We spoke with our Worcester Area Manager about wanting to update our website and was recommended to give WigWag a try. We were really impressed with the initial designs and could see they were bespoke to use.

I know I can pick up the phone and talk to the team immediately, the communication is great!
CUSTOM PRINT WORK
Print Work & Branding
We can design and arrange the print of a variety of bespoke printed items.
From A4 presentation folders to boiler service stickers and van designs. Our in-house design team will work with you to create bespoke branded items for your heating company using your existing branding or by creating something new with bespoke illustrations!
Bespoke Character Illustrations
Add a touch of personality to your website or print work
PHONE SYSTEMS
Get Landline Calls To Your Mobile
Connect a local landline number directly to your mobile using our Virtual Landline Number feature.
If you already have an existing landline number we can bring that into our system too! Our virtual landline feature is available for
just £10 per month!
Virtual Landline
Get landline calls to your mobile
Only £10 per month
Quick and easy

set up

Pick your own

number
Sign up now
SimRing Virtual Landline
Landline number to 2 mobiles
Only £20 per month
Quick and easy

set up

Pick your own

number
Sign up now
Phone & Mob App
Phone service & mob app
Only £66.80 per month
Call

recording

Up to

4 users
Get phone service