homepage-temp-slider-background
Innovative Gas | Case Study
Discover our rebrand for Innovative Gas, heating engineers in Pembrokeshire, Wales.
Proud to be working in partnership with Worcester Bosch
What rebranding meant to Wales based heating engineers, Innovative Gas.
Innovative Gas got in touch with us looking to discuss a brand new website.
Lee and his team wanted to continue doing what they did best, installing boilers and have a company they could trust to handle the design and build of a website that would engage customers.
Before
After
Van Design
Van Designs
To continue to push their brand new branding, we designed Innovative Gas's van graphics.
The design team along with the customer selected a little puffin to promote their boiler services!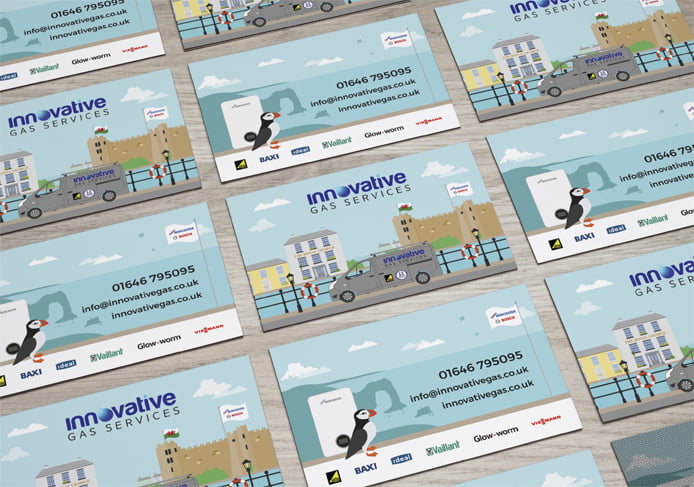 "All I can say is you've done what you said on the tin!"
"WigWag's advise has been excellent, they've kept us informed every step of the way and it has all lead to an amazing outcome."
As well as designing Innovative Gas' bespoke location and character illustrations, Lee and his team wanted to keep the branding consistent with bespoke business cards too.
We utilised the graphics designed for the website and produced business cards that reflect their new look.
Lee and his team not only wanted a professional looking website, they also wanted to streamline their internal systems. Previously all the engineers were working from mobile phones, after speaking with us about our Business Phone solutions, we set Innovative Gas up with a local landline number that his customer will recognise.
Innovative Gas were also contacting customers with a free email address. We set them up with a Google Workspace account, utilising their domain so now their emails look professional and reliable.
Both our Business Phones and Google Workspace allows Lee and his team to expand. Google Workspace can have multiple email addresses for staff job roles, shared calendars as well as collaborative apps such as Google Docs and Google Sheets. Our Business Phones offers multiple landline numbers within one account and well as call recordings and the option to create IVR menus (press 1 for boiler installations, press 2 for accounts etc). We have systems that and expand and grow along with the heating engineers business.
Looking to improve your website?
Our team are always on-hand to help!
Take a look at Innovative Gas's website.